Ticketing
Crypto payments for your events
You can start accepting crypto payments in minutes without having to write a single line of code for your web3 events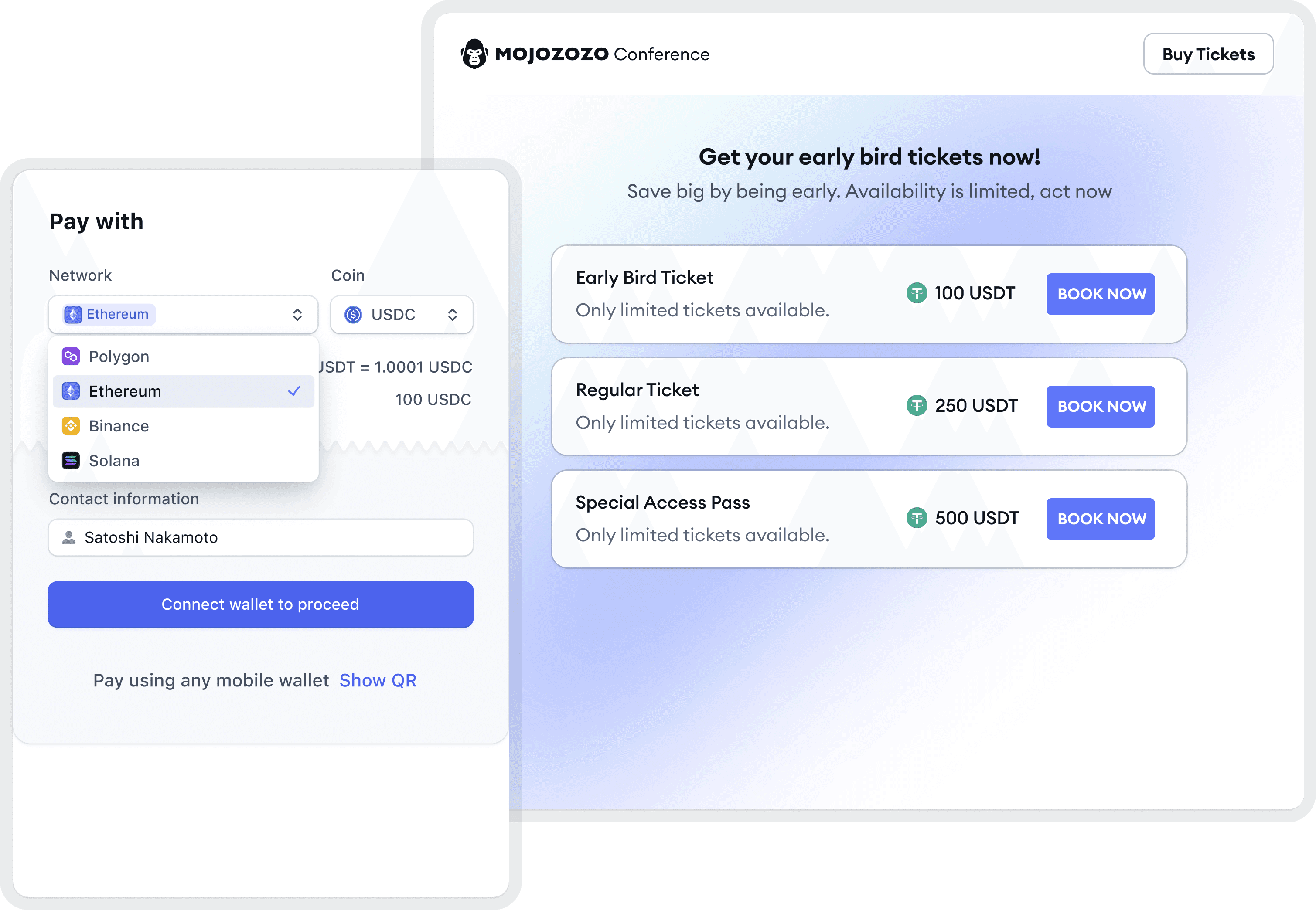 With just a two-minute integration time, Copperx can help you accept ticket payments starting today.
The rapid growth in popularity has its shortcomings. There are still many myths around the industry and accepting crypto payments, especially for event organizers, may seem like a hard thing to do. But it shouldn't. That's why we made it easy for events and venues to accept crypto payments for tickets. Here's how you can accept crypto payments for your events with Copperx.
Web3 Conference
Web3 Meetup
Web3 Event
Web3 Cohort
Web3 Hackathon
Web3 After Party
Web3 Workshop
Web3 Session
Web3 IRL Event
Web3 Dev Guild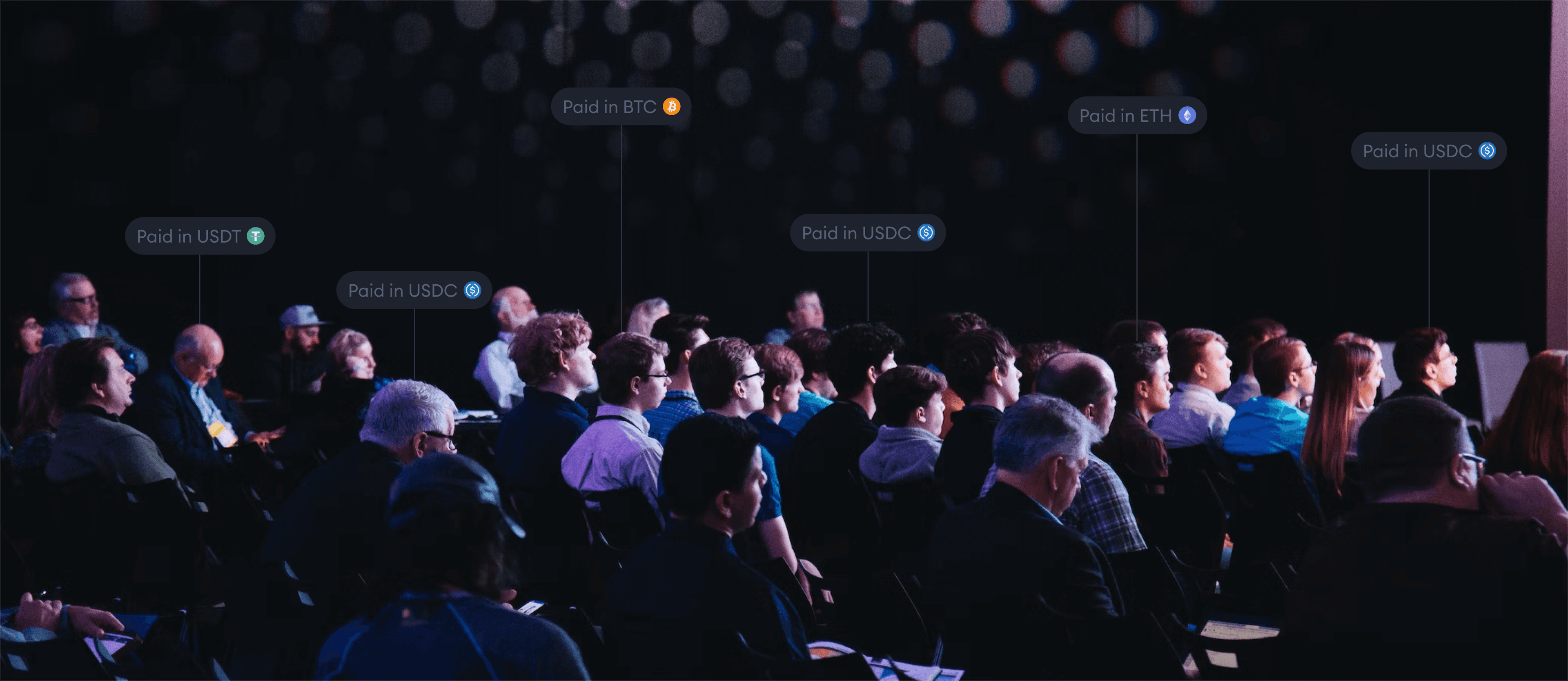 WHY CRYPTO PAYMENT?
Maximize conversion with smarter payments
Easy to implement
Integrating crypto payments takes just 5 minutes and 7 lines of code for your ticketing platform.
Lower Fees
Crypto payments offer lower fees than traditional payment methods. Utilize your revenue for your event, not for paying fees.
Instant Payment
With crypto payments, you can sell tickets globally and get paid instantly.
Payment Receipts
After each successful transaction, attendees will receive a receipt with details such as purchased items and descriptions, quantity, total price, payment method, and more.
Global access
Anyone can now transact with anyone else across the world instantly, without the need for intermediaries.
Currency Conversion
Enable your attendees to make payments using their preferred currency. As a business, you can now receive payments in Stablecoin.
NO-CODE SOLUTION
Use no-code payment link to sell your tickets
Crypto payments just take 5 min of your time to integrate in your ticketing platform. Use 7 line of code to integrate.
DEVELOPER SOLUTION
Save time on building, Integrate an API in 5 minute
Integrating crypto payments into your ticketing platform takes only five minutes. With just seven lines of code, you can integrate it.
Developer Docs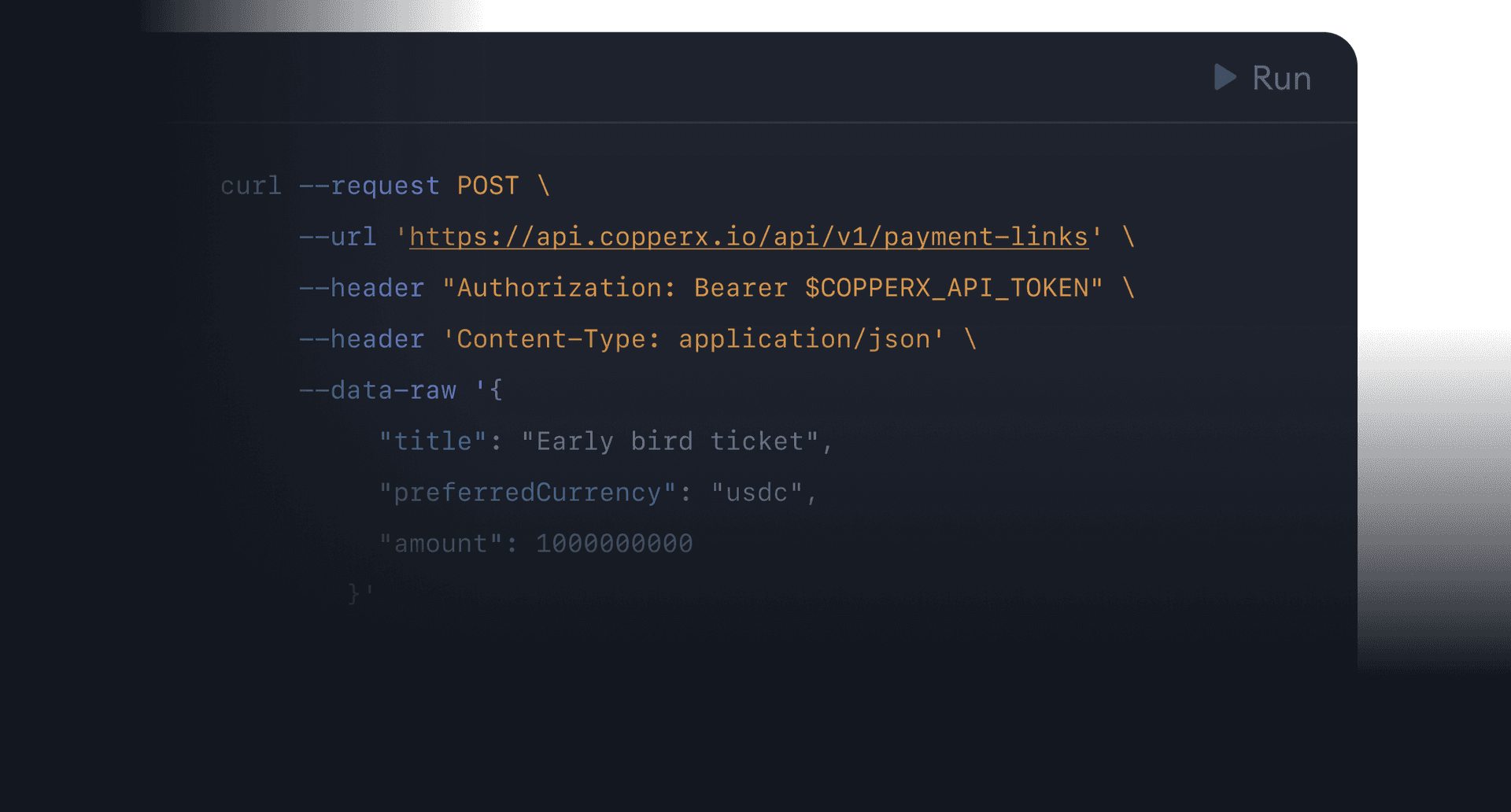 Get more attendees,
Make more sales
Payment methods
Accept payments seamlessly across four chains: Ethereum, Polygon, BNB Smart Chain, and Solana.
Currency Conversion for your attendees
Attendees can pay using currency they preferred on checkout.
Event Branding on Checkout Page
Maximize your event's branding by customizing the logo and CTA color on the checkout page
CaseStudy
Web3Conf

levels up with Copperx: Better accounting and reconciliation, branding, and ticketing experience.
Challenge
The Web3 Conference had encountered difficulties in accounting for attendees when they used a ticketing system for booking tickets. Attendees faced issues like completed payments without ticket generation, and reconciliation was a major concern.
Solution
Now, after partnering with Copperx for ticketing services, Web3 Conf can readily achieve enhanced accounting and seamless reconciliation. Ticket holders will benefit from an improved checkout experience featuring customized branding and logos. Moreover, attendees can pay in any currency, while our currency conversion option enables businesses to receive payments in their chosen stablecoins. Instant transaction receipts will be generated for customers to maintain records and much more.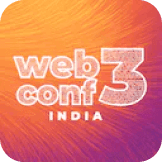 Anubha Maneshwar

Founding Director - GirlScript Foundation and Web3Conf India
We got in touch with the Copperx team to host the Web3Conf India 2023 conference. So far, our experience has been smooth with onboarding and launching crypto ticketing for the conference. The Copperx team is extremely supportive and passionate about their mission. Making it non-custodial gives us full control over our money. I would highly advise other events and conferences to host their events with the Copperx experience :)
Frequently asked questions
Get in touch with us for pricing details.
Our platform presently supports Ethereum, Polygon, Binance Smart Chain, and Solana. We're continually working to broaden our network support and plan to include more networks in the future.
Yes, all ticket holders who purchased their tickets using Copperx will receive a transaction receipt containing all the necessary details.
With the help of payment links, accepting payments only takes about 5 minutes. Simply create a payment link and embed it on your event landing page or share it via social media. Alternatively, you can use our APIs to generate a checkout session in just seven lines of code.
See more FAQs →
Let's get started
Get paid faster with crypto payments. Instantly create an account or contact us for a custom package tailored to your business