Back
Share it on
ANNOUNCEMENT
Introducing Recurring Billing - Subscription payments for crypto
Recurring Billing allows them to automatically charge customers in crypto at regular intervals, ensuring that they receive payment for the services they provide.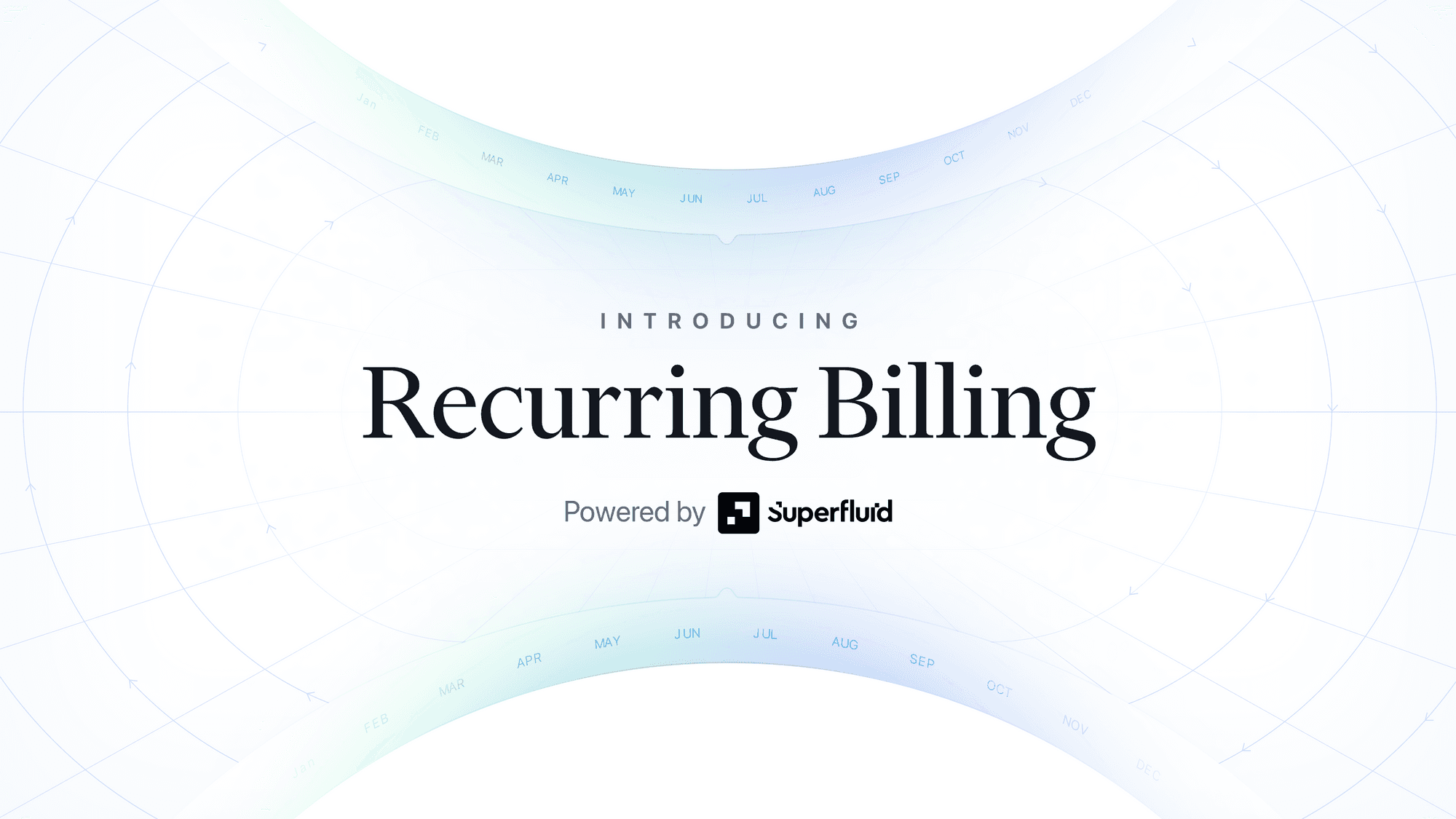 Tarun Mangukiya
Apr 04 2023
Subscription payments have been growing in popularity over the years, and with the rise of web3 and cryptocurrencies, businesses have been exploring new ways to offer subscription services to their customers in crypto. However, managing subscription payments can be a daunting task for businesses, with multiple payment networks & currencies, billing cycles, manual notifications, invoicing resulting in tons of customer support tickets.
At Copperx, we're committed to making crypto payments simpler for businesses and customers alike. That's why our product team has been hard at work developing our newest product.
Today, we are excited to introduce Recurring Billing. Now, businesses offering services such as Blockchain APIs, Blockchain Infrastructure (RPC Providers), Blockchain Data & Analytics, Developer Tools, NFT Analytics, and more can start accepting recurring payments in crypto.
To enable recurring payments, Copperx has teamed up with Superfluid, the most trusted protocol for token streaming. Superfluid has been extensively audited by Halborn Security, ensuring that customers funds are safe and secure. The integration of Superfluid's technology allows Copperx to provide businesses with a seamless and reliable recurring payments experience in crypto. Throughout the process, Copperx provide helpful tips to learn about Superfluid and token streaming.
Copperx is currently live and operational on the Polygon blockchain, and it currently supports USDC as a form of payment. With a roadmap in place, Copperx plans to expand its capabilities to support more tokens in the future. This will provide more flexibility for customers and allow them to make payments using a wider range of digital assets.
---
Why choose Copperx for Recurring Billing in crypto?

Dashboard & Reporting
Our user-friendly dashboard empowers businesses to manage subscriptions effortlessly. Customise recurring payment schedules, control billing cycles, and receive instant alerts on subscription activity. This makes it easier for businesses to stay on top of their finances and ensures that customers are always up to date with their payments.
Additionally, customers can count on us to handle low balances or insufficient funds. Our system will notify customers, allowing them to top up to keep using the service, or limit their access as needed using our webhooks.
Automated Notifications
Get realtime updates when users start or end subscriptions, or have low funds in their wallet.
Automatic Reminders: We automatically send reminders to users with low wallet balance.
Subscription Lifecycle: Our monitoring system notifies you via Webhooks when subscriptions start, end or fail.
Smart Retry: Our smart retry feature keeps notifying users to restart their subscription even after renewal failures.
Automated Payment Receipts
Coming soon Now receipts and invoices will be generated monthly. This means that businesses no longer have to manually track payments or subscriptions, giving them more time to focus on their core business activities. Businesses can track payments, top-up needs, and renewals from dashboard.
Powerful Integrations
Coming soon Easily link with popular tools like Quickbooks, Xero, and Zapier, so you can email clients, download CSV files for bookkeeping, and create custom reports without hassle.
---
In conclusion, Copperx Recurring Billing is a game-changer for businesses looking to manage their crypto recurring payments with ease. The integration of Superfluid's technology ensures a seamless experience for customers, while Copperx's user-friendly dashboard makes it easy for businesses to manage subscriptions.
Copperx Recurring Billing lets businesses focus on their strengths while we manage everything else.
Thank you for reading :)
Share it on

Tarun Mangukiya
Co-founder, Copperx On a mission to simplify payments using blockchain. I love coding & building products.