Back
Share it on
ANNOUNCEMENT
Introducing Invoices for Web3
Unveiling Copperx Invoices: An innovative solution addressing the challenges of crypto invoicing in web3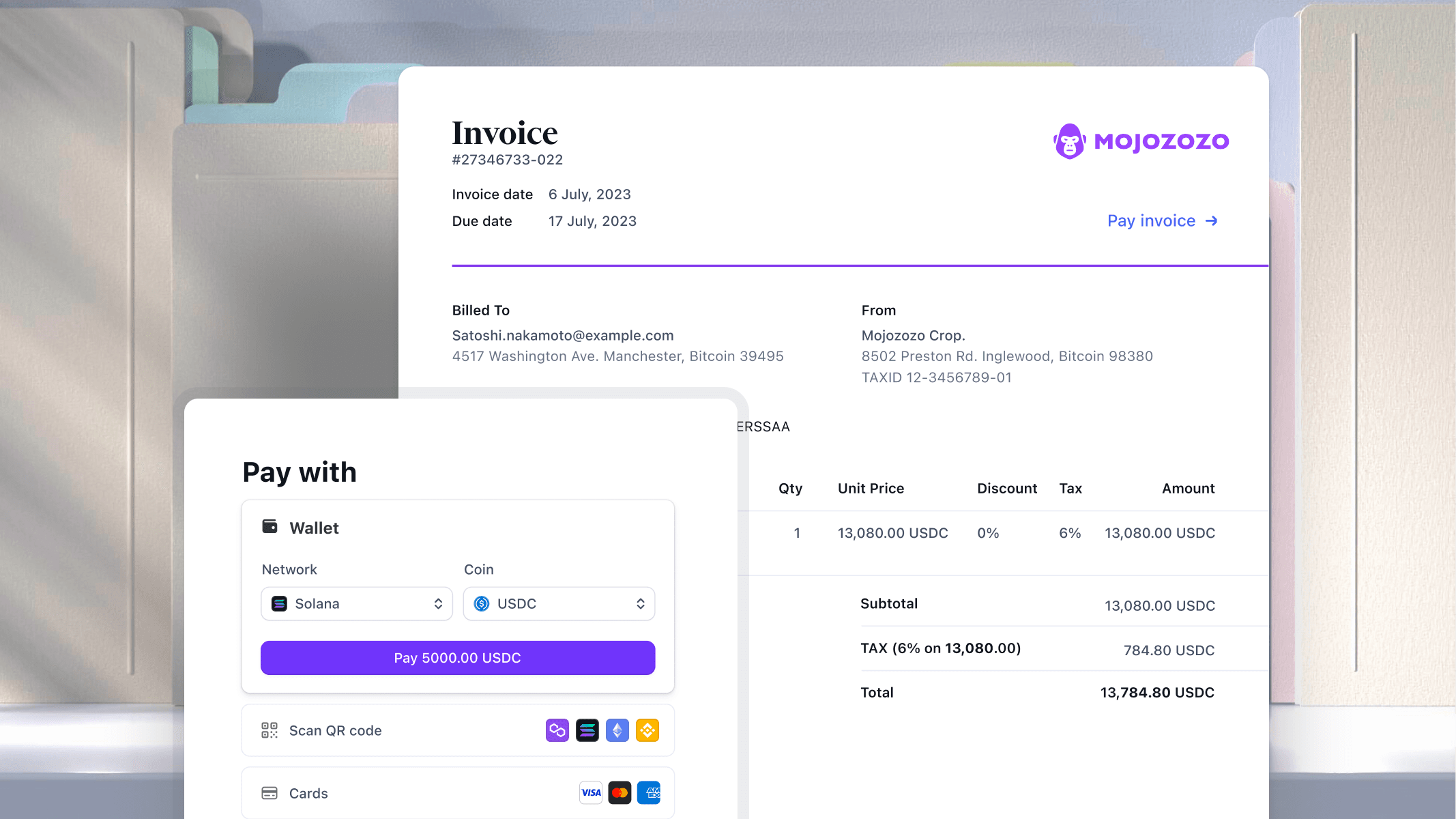 Tarun Mangukiya
Jul 27 2023
As Web3 business it's a constant struggle to accept payments. Managing payments google sheets, generating invoices in google docs and doing payment reconciliation is a major monthly headache. As we navigate the rapidly evolving terrain of digital transactions, we at Copperx are constantly focusing on helping web3 businesses to accept and manage their payments.
Today, we're thrilled to share a major step forward in our journey with the launch of Copperx Invoices.
Simplifying Invoice management
Built on the foundation of user-centric design and utility, Copperx Invoices is an innovative addition to our products. It's designed to support multiple networks— Ethereum, Polygon, BNB, and Solana— and promises a simple invoice creation process.
What truly sets a Copperx Invoice apart is the meticulous detail and transparency it offers. Every invoice includes:
Customer Information: Essential details of your client.
Unique Invoice Numbers: For easy transaction tracking.
Line Items: Detailed breakdown of each product or service.
Product Details: Comprehensive product descriptions.
Discounts & Coupons: Clearly listed applied discounts or coupons.
Tax: A detailed breakdown of tax for each invoice.
Memo & Footer: Add additional notes and footers for a personal touch.
We've designed Copperx Invoices to serve you in more ways than one:
Multi-Network Support: Accept payments across various networks seamlessly.
Invoice Management: Copperx Invoices offer a unified portal to manage invoices, track payment status, and interact with customers effectively.
Import Customers with CSV: Save time by uploading your customer database using CSV files.
Currency Conversion: Accept payments into your preferred currency in real-time.
Branding: Customize invoice colors to reflect your brand identity.
Competitive Pricing and Support: Experience best-in-class support and value for money with Copperx invoicing.
Despite the widespread adoption of cryptocurrency, businesses and freelancers often grapple with numerous complexities. These range from accommodating multiple currencies to generating time-consuming invoices and finding solutions that prioritise user experience. Copperx Invoices addresses these challenges head-on, opening a pathway to a more seamless crypto transaction experience.
A Word from Founder
We invite you to experience the future of invoicing with Copperx Invoices. Here's to effortless navigation of the vast sea of cryptocurrency transactions, and the unlocking of untapped potential for your business.
As we continue to innovate and evolve, we can't wait for you to leverage Copperx Invoices to enhance your operations and simplify your crypto transactions. With Copperx, the future of invoicing has arrived!
Stay tuned for more exciting developments. Until then, happy invoicing!
Thank you for reading :)
Share it on

Tarun Mangukiya
Co-founder, Copperx On a mission to simplify payments using blockchain. I love coding & building products.