Back
Share it on
TUTORIAL
How to raise invoices for your Web3 business using Copperx
A Step-by-Step Guide on how to raise invoice with Copperx and get paid in crypto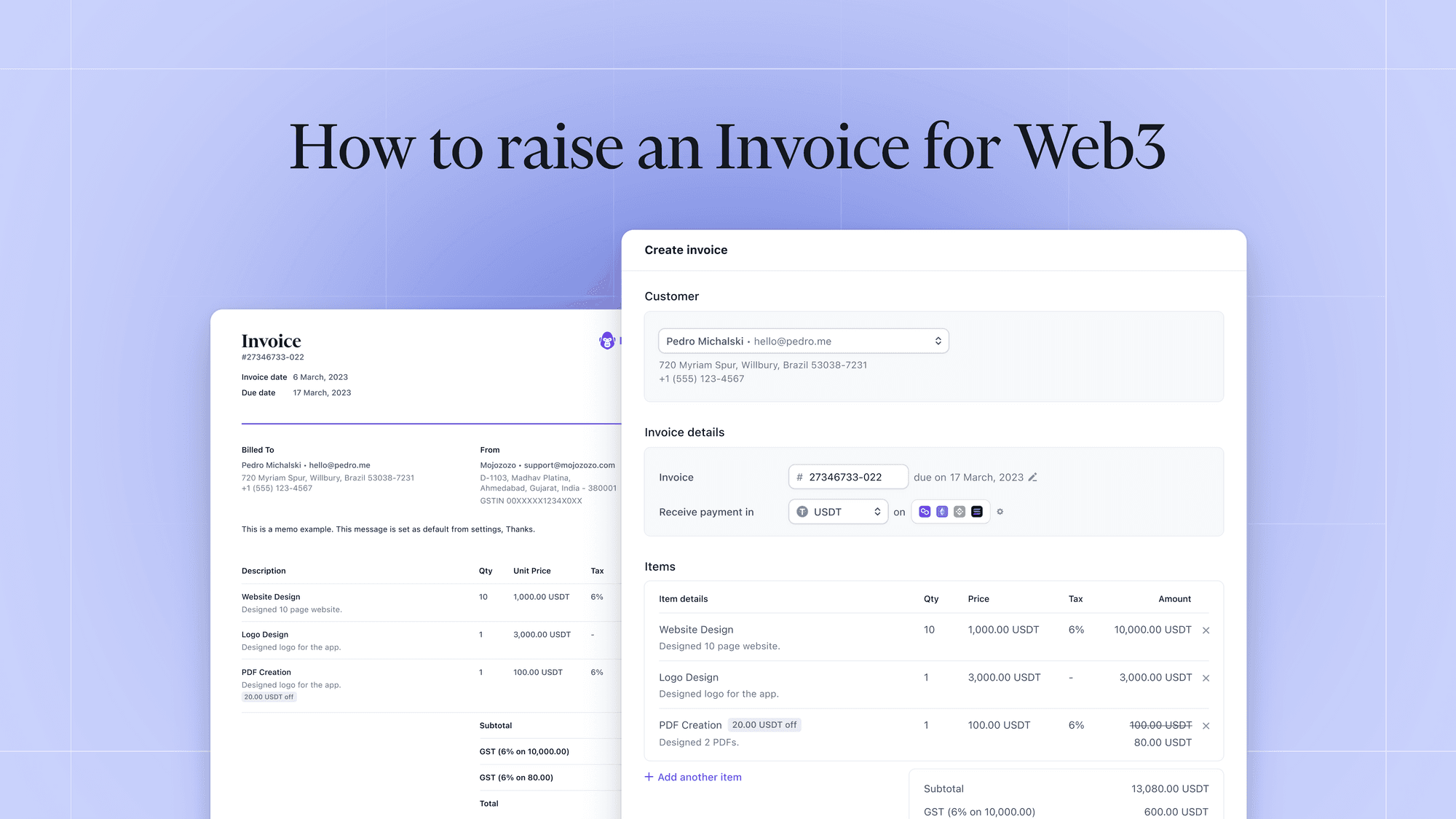 Aditya sharma
Aug 01 2023
With the increasing adoption of Web3, the blockchain-enabled internet evolution, businesses worldwide are finding a need to integrate cryptocurrency invoicing into their operations. Copperx emerges as a solution built for this new age, providing a seamless, user-friendly interface for creating and managing cryptocurrency invoices.
This tutorial will guide you through the process of setting up and creating invoices using Copperx.
Step 1: Tailor Copperx to Your Brand
The first step in adopting Copperx is to infuse your brand into the platform. Navigate to the settings page and upload your company logo, giving your invoices a personal touch.
Next, customize the colour theme of your checkout page to align with your brand's colors, creating a cohesive brand experience.
Step 2: Link Your Wallets
To ensure Copperx can seamlessly facilitate your cryptocurrency transactions, you'll need to link your cryptocurrency wallets.
Head back to the settings page and add your wallet addresses for the various supported networks, including Ethereum, Polygon, Solana, and BNB CHAIN and you also have the option to name the address, select a default network and payment currency, and enable or disable currency conversion.
Step 3: Update Your Business Details
Your invoices need to accurately represent your business, which is why the next step is to update your business details.
This includes your business name, industry, address, contact details, and tax ID. Updating these details ensures your invoices maintain a professional look, aiding in building trust with your clients.
Step 4: Manage Your Customers
Now that your business details are set, it's time to manage your customers. Copperx's customer management section allows you to add, edit, and delete customer information.
If you're transitioning from another invoicing platform, Copperx has you covered. You can easily import your existing customer data via a CSV file. To learn more about this seamless transition process, explore our comprehensive guide on importing customers here.
Step 5: Create Your Invoices
With all the setup done, you're now ready to create your first invoice. Click on "Create Invoice," and you'll be taken to a page where you can fill in the necessary details. Select the preferred currency and network for each invoice.
The invoice should include essential details such as customer info, invoice numbers, line items, product details, applicable discounts, taxes, and even a memo and footer. These fields are fully customizable, allowing you to create invoices that suit your business needs.
Step 6: Manage Your Invoices
Once your invoices are created, Copperx's user-friendly dashboard helps you manage them effectively.
Here you can view all your invoices, mark payments as paid (if handled externally), and execute other actions such as editing, duplicating, voiding, or marking an invoice as uncollectible.
Congratulations! You've now successfully created and managed a cryptocurrency invoice using Copperx.
Wrapping Up
Cryptocurrency invoicing has never been more straightforward, thanks to Copperx. With this detailed guide, you're now equipped to navigate the platform effectively, create and manage invoices with ease, and provide your customers with a seamless crypto payment experience.
Remember, invoices form an essential part of any business transaction. They ensure transparency and form a crucial part of financial record-keeping. As you embark on your Web3 business journey, an efficient invoicing system like Copperx will serve as a strong pillar for your operations, enabling you to transact smoothly in cryptocurrencies.
To delve deeper into the nuances of invoices in the Web3 world, we invite you to explore our dedicated article here. It will offer you comprehensive insights into the importance of invoices for your Web3 business and how Copperx makes the process efficient and user-friendly.
Embrace the future of invoicing with Copperx today. Happy invoicing!
Thank you for reading :)
Share it on

Aditya sharma
Simplifying Blockchain Payments. Fintech aficionado