Back
Share it on
CUSTOMER STORIES
DeForm and Copperx: Pioneering Onchain Marketing with Seamless Payments
DeForm partners with Copperx to offer seamless crypto payments, accepting a wide range of cryptocurrencies through Copperx's secure payment gateway.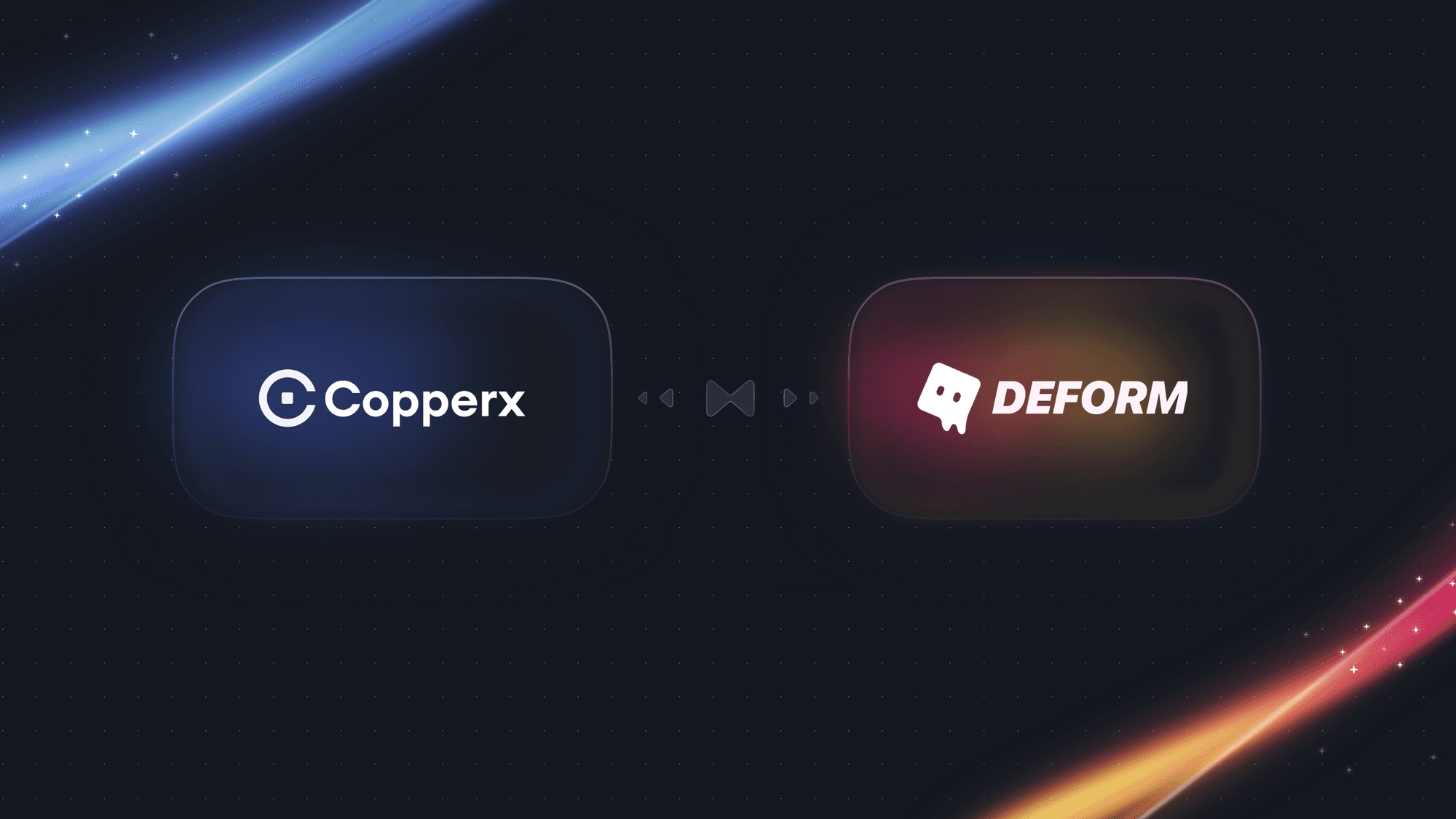 Aditya sharma
Sep 01 2023
About DeForm
DeForm is at the forefront of transforming how brands engage with their communities through crypto-native Customer Relationship Management (CRM). The platform offers an extensive suite of web3 forms, allowlists, and customer lead generation tools. With features like NFT giveaways, powerful automations for verifying tokens and on-chain activity, and specialized tools for allowlists and airdrops, DeForm has become the go-to platform for modern, on-chain brand operations. The company collaborates with industry-leading players like Coinbase One, Base, Alchemy, ENS Domains, Matcha, Optimism. Additional offerings include identity verification, custom branding, and seamless integration workflows
Challenges
One of the most significant challenges DeForm encountered was the need for a seamless payment solution, particularly for users setting up their own e-commerce checkout pages. Traditional payment gateways often fell short in offering the flexibility required for handling a diverse range of cryptocurrencies. This limitation impacted user experience and narrowed payment options. DeForm needed a solution that could support multiple payment methods across various blockchain networks and offer currency conversion at the checkout stage. They also sought quick integration capabilities, akin to Stripe, where as few as seven lines of code—coupled with comprehensive API and documentation—would suffice for a complete setup.

Solution
Copperx Payment Gateway
To tackle these challenges, DeForm integrated the Copperx payment gateway, significantly enhancing its service offerings:
24/7 Customer Support: Copperx offers round-the-clock customer support, promptly resolving any integration and payment-related issues, and thereby boosting DeForm's platform reliability.
Multiple Networks and Currencies: The Copperx integration enables DeForm to accept payments across various blockchain networks, including Ethereum, Polygon, BNB Smart Chain, and Solana, as well as a wide range of currencies, thereby expanding its user base and flexibility.
API Docs with Quick Integration: Copperx provides comprehensive API documentation, allowing for quick integration with just seven lines of code, mirroring the ease of Stripe's documentation.
Currency Conversion: The feature allows users to pay in their preferred currency at checkout, mitigating the risks associated with cryptocurrency volatility.
Custom Branding: Copperx enables DeForm users to personalize the branding on the checkout page, ensuring a consistent and visually appealing brand experience.
Receipts: Copperx issues automated receipts for all transactions, adding an extra layer of transparency and accountability.
By addressing these challenges head-on, Copperx's integration has substantially upgraded DeForm's platform, making it an even more compelling choice for those looking to engage in modern, on-chain brand operations.
Conclusion
The Copperx integration has been a game-changer for DeForm, effectively resolving several critical challenges and limitations. From 24/7 customer support to multi-network payments, the partnership has broadened DeForm's reach and flexibility. The quick and easy integration process, modeled after Stripe's efficient setup, simplifies the user experience. Features like currency conversion, custom branding, and automated receipts further enrich the platform, adding layers of convenience and transparency.
If you're aiming to modernize your brand operations and leverage the on-chain revolution, DeForm, with Copperx as its trusted payment partner, sets a new standard in the realm of on-chain brand operations.
Thank you for reading :)
Share it on

Aditya sharma
Simplifying Blockchain Payments. Fintech aficionado